.:muzic:.
Again, there are random CDs I have got this weekend.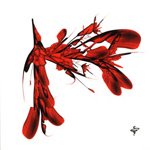 -MEAM "The L"
Just because the CD jacket was sensational. In addition to that, the CD had a sticker on which said "PRICE IS REDUCED Because CD surface doesn't look perfect. CD IS GUARANTEED TO PLAY PERFECTLY" ok, someone REALLY want to sell this (get rid of this crap?). There was no written explanation outside the CD case even who the artist is, but I decided to be a guinea pig for the experiment of how stupid sticker affects customer.
-O.S.T. "deflect"
The colour of CD jacket+$2.00=worth trying. Never heard of either artist and title.
-Yee-King "SuperUser"
"Made in England" was a good enough reason to buy. Love UK music. Even though I am in the US, my iTunes store is set with UK.
Haven't really listened to any CDs yet. I think these are pretty good as far as I listened to a few songs from each CDs. Well, total $17, no worries.